Here is a little peek-a-boo of a newly acquired pretty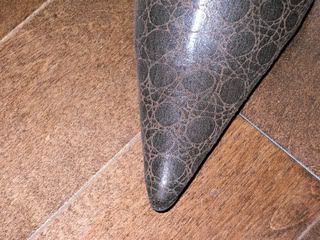 Knowing me as you do, any ideas pop in to mind? If you thought boots, you'd be right. I couldn't resist. I know I'm weak. Please forgive me!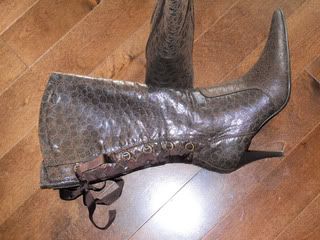 I was out shopping with Queenie last night and came upon these lovelies. They are regularly $130.00 and I snagged them for 42.00 - that is taxes included! Aren't they purdy??? I don't have a clue what I'm going to wear them with, but I just had to have them. I didn't really have to have them in a life saving sort of way, but I fell in to the mindset of them being such a good deal why not sorta thinking! I'm bad I know.

I was just whining about worrying about money and a part time job I don't really want to do, a daughter going to college and I'm out buying boots I don't need. Buyer remorse shoo away.

They are pretty though, don't ya think?