I love having Queenie home for the weekend, I really do. Honestly, it has been the best time, the time I've spent with her, but for one thing. Since it's her birthday tomorrow, 19 y.o., and I'm really struggling with what to get her for her birthday, we've been shopping.

I usually give the girls somewhere in the vicinity of $100 for their birthday. Queenie wanted money and needed clothes, so we decided to to clothing shopping and then what wasn't spent on clothing the rest would be cash. I know she needs it, but it breaks my heart that birthday money would be spend on necessities not fun. She seems okay with it but makes me sad.

I'm getting sidetracked. Sorry. Anyway, while out shopping I stumbled upon these little lovelies.....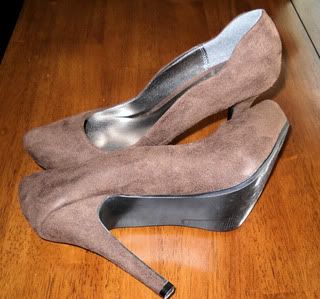 for $8.50 I couldn't resist. They aren't the quality of the shoe like the boot I posted just the other day, but the amount I will wear them, they don't have to be.

I will not be wearing them much, especially not until after May. I don't stumble on heels a lot, but the last thing I to do right now is wrench an ankle while training for my half. It would be a major setback and be a devastating blow to my mental state!

New shoes are fun. There is a reason, as I try to cut my debt and spending that I don't hit the malls often. Hmmmmm, you would agree that is a smart approach. I need to be back in my routine because I'm broke and there are too many shoes out there. I seriously meant to write sales, not shoes, but apparently it's the shoes that are my weakness!

Queenie, I had a wonderful weekend with you and I really will (already do) miss you bunches!