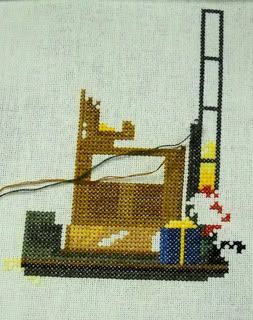 This would be the stocking I am stitching for myself. I have recently picked up a needle again and am excited to say I've hit a 10 hour block. This stitching Passion, Obsession or Insanity used to be the main focus of my blog, but as of late, not so much. I'm trying to remedy that and find some balance with all things I love.
Stitching is something I love, but don't do very often. I don't find there is much of a place for it in my home, in my life and thats tough. All the time away from it, I've missed and now would probably be classed as a slow stitcher, but thats okay. I'm stitching, and really, that feels amazing. I have stocking already done for Princess, yet to find one for Queenie and am making small progress on mine. I would love to do one for Cute Boy and each of his girls, but we'll see. First things first. Work on mine.
I have a small confession to make in regards to this piece though. I put the first stitch in this piece January 1, 2007. 3 years to get 10 hours completed. That is the insanity of the situation.
Happy stitching days to you.