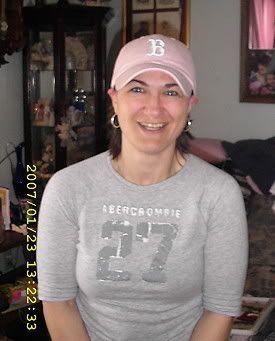 I'm friends with an amazing woman that I've 'met' on the
Cross Stitch Crazy
message board. Mary is currently in the process of fighting breast cancer and in the process of treatments bought herself hats to wear as she was losing her hair. Much to my chagrin, Mary is a Boston Red Sox fan and those who don't know me, wouldn't know, so I'll tell ya, I'm a die hard Yankees fan. Can you figure out what hat Mary bought herself to wear? You guessed it?! A Boston Red Sox hat ~ imagine.
Mary posted one day about buying her Red Sox hats and I replied to her that I tip my hat to her in the graceful way she is fighting her cancer. Albeit it's a Yankee hat I tip to her. I told her I'd buy a Red Sox hat and wear it in honour of her fight and the strength she's shown. Quite some time ago, Mary sent me a little gift. Again, you guessed it! She sent me a pink Boston Red Sox hat. I had no idea what was in the envelope. When I opened it I was busting a gut laughing. It was the hat. I was in a very bad place emotionally and to see her gift to me was just what I needed. Here I was trying to be strong for her, and she is the one the lifted me up. The gift of a friend and you just never know when that gift will present itself to you. Keep your eyes open.
I told Mary I would wear 'our' hat and post a picture. It has taken me quite some time to get the photo taken, but it is here and I wear this hat with a true appreciation of your battle Mary. Anything you need, whenever you might need it... you know where to find me. Today and always I tip my hat to you! Hugs and love to ya, sweetie.