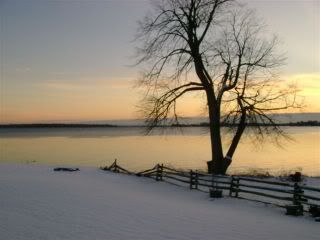 This is probably one of my favorite pictures ever. It has taken me a while to get a copy of this photo, but I finally have it. Thank you, Todd. This picture was taken last year by Todd's oldest daughter, the daughter that aspires to be a photographer. From this photo I think she has some talent, I really hope she follows it up. It is a picture from her Aunt and Uncle's sun room looking out on the St. Lawrence River.

Todd and I, along with his girls went to visit his sister and her family (love them) last Christmas and it was awesome. I fell in love with their house, and not just because it is beautiful, it is, but because of the people and the way they make you feel - at home and welcome. The view in this picture is what I woke up to, with tea in hand and a book, out to the sun room, I head. It was heaven and a place and way of life I could get very comfortable with. Funny eh?

I lack the words to do this picture or the feelings it inspires justice. I just know when life gets like it will sometimes I escape to this place in my mind. It is a gift of immeasurable worth. Does it get any better than this?