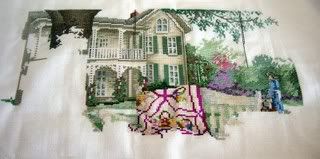 I don't normally do this, but I have decided to post an update at 95 hours. I usually hold out until 10 hour blocks roll around, but I love this piece so much I couldn't wait to share. I'm so bad!!

I really can't wait to get this one finished and have it hanging in my front entranceway! I keep looking up to where I want this piece to hang and get soooo excited. I guess the best way to get what I want is to keep up with needle to thread and eventually it will be hanging in it's place of honour.

Next piece: Love with a Capital L for 10 hours.