Look what followed me home last night!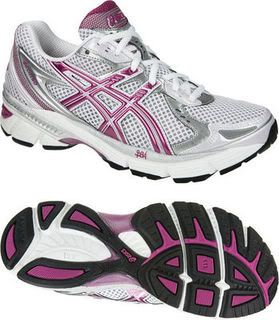 Aren't they purdy???
Pam and I went shoe shopping last night - finally! I tried these on at The Running Room a while back, but didn't buy them because the Running Room worker was dismissive, non-attentive and overall presented us (Pam and I again) terrible customer service. I've been in shoe covet mode ever since and knew it was just a matter of time when these babies would be mine. Buy One, Get 50% and these came in at $110.00. Running Room's loss was SportMart's gain. Good customer service and better price. What more could you ask for when buying shoes for your very first half marathon.


My run schedule has been off kilter this week - read non-existent. The plan is to hit the treadmill for an hour tonight after work. I'm really looking forward to putting these pretty little gems to the test.


Next on the purchase agenda:
a red racer back running top
Race day is only 72 days away.... breath! Run, breath, run!