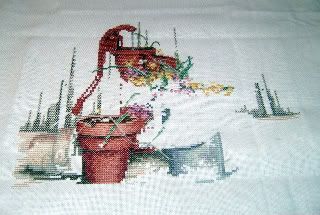 Hard to believe I actually have a stitching entry on a stitching themed blog. Who'd a thunk it?

I've been so busy with life lately that I've had no desire or better yet, time to stitch. I'm working evenings this week and I was determined to make progress towards another picture block! I did it and couldn't be happier.

I'm going to focus on this piece until it is finished, as much out of a desire to get it finished as I am because the only other piece in my possession is Halloween Fairy and I'm in need of supplies for her.

So, Wildflower Rhapsody it is, all in it's mish mash point of completion. Is it obvious that I have issues with focusing on one thing. There is a plant pot that is partially finished, one that is 99.9% done and then the water jug started. I'm avoiding the flowers a little bit because are beautiful yet nasty to work on all at once. I guess every stitch needs to be crossed so how I do it shouldn't matter right?

As always, thanks for looking!