I've come upon the idea from another blogger, Chris, that I'm going to try for a while. I stumbled upon her blog and in reading discovered she is trying to work 1 hour per week on her UFO's. Seeing as I have many UFO's myself, I thought this would be a great idea for me, as well. Chris has started a UFO 2008 board. I've yet to introduce myself, but I will at some point.

I'm posting a pic of Mirabilia's Halloween Fairy that I will be focusing on for completion.

Here she is as of this morning at 5 hours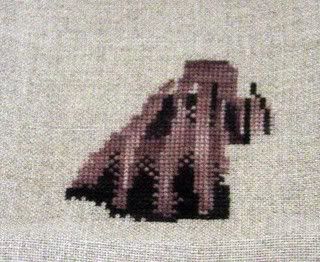 I'll be back with an update in another 5 hours or so.

I had many pieces to choose from as you will see by the following list:
Angel Proclamation
The Bride
Halloween Fairy
Be Warm Be Welcome
Bubbles
Middy
Treetop Sampler
Giggles Girl
My Stocking

Hmmmmm, always thinking, always planning!