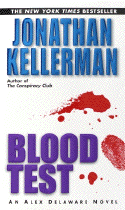 Dr. Alexander Davenport, a child psychologist in Los Angeles, is called in to evaluate the case of a leukemia patient whose parents want to discontinue chemotherapy. When the boy disappears from the hospital and his parents are found dead, the only leads are the boy's sensual older sister and a holistic-meditative cult called The Touch. Davenport's search for the child takes him to a small town near the Mexican border where he finally unearths the dark secrets kept by the boy's family and the townspeople. He also uncovers drugs and group sex in the commune and survives a few harrowing attempts on his life.

~~~~~~~~~~~~~~~~~~~~~~~~~~~~~
This was a good novel, but touched on incest. I didn't see this developing! Freaked me out big time! I'm not 100% on Jonathan Kellerman's style so I'll give it some time before I follow up with the 3rd novel in this series.